Dr. Woodruff provides her scientific expertise to advocate for policy change at institutional, state, and federal levels. This outreach calls for increased support for research, scientific advances, and improved patient care.  
Advocating for Sex Inclusion Makes Impact
Teresa Woodruff, the director of the Women's Health Research Institute at Northwestern, was a driving force behind the new National Institutes of Health (NIH) policy to include females – from cells to animals -- in preclinical research. Woodruff and the Institute's leadership council have been actively advocating for sex inclusion in all levels of research to NIH and Congress for several years including a pivotal article in the journal Nature in 2010. In January 2016, the NIH established a policy which requires the consideration of sex as a biological variable in biomedical and preclinial research. The one-year anniversary of this policy was celebrated at Northwestern University at the "Sex Cells" Workshop and Symposium. Watch Dr. Woodruff describe the importance of considering sex as a biological variable
Woodruff and Northwestern Medicine surgeon Melina Kibbe, M.D., appeared on a "60 Minutes" segment about the problem of not including females in research studies. Woodruff had encouraged Kibbe to start including female animals in her vascular research. Kibbe discovered a huge difference between female and male rats. "The Colbert Report" also satirized the issue in this "Co-Ed Lab Rats" clip.
"When you only use one sex in animals and cells in the earliest stage of research, you get incomplete information that often only applies to one sex," Woodruff said. "Women have been negatively affected by that myopic view.  The new policy is a huge change in the way all NIH-funded research will be done."
Women's Advocate
Dr. Woodruff has been an advocate for gender specificity in clinical trials in an effort to better understand the effects that technologies and procedures have on women and is the Founder and Director of the Women's Health Research Institute.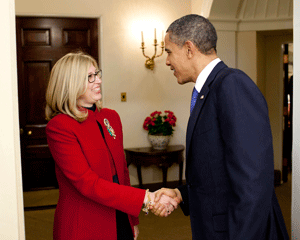 As an educator and mentor, Dr. Woodruff encourages young women to pursue careers in the sciences, and has developed the Oncofertility Saturday Academy as a way to involve high school girls in college level science. She received the Presidential Award for Excellence in Science, Mathematics, and Engineering Mentoring in 2011 from President Obama for her work with the Women's Health Science Program.

Lt. Governor Sheila Simon Proclaims Women's Health Day in Illinois
Sheila Simon proclaimed Wednesday, May 14, 2013, Women's Health Day in Illinois.  Lawmakers and officials from the state's Department of Public Health, Northwestern University and the Southern Illinois University School of Medicine joined her in the proclamation. Dr. Woodruff and her team from the Women's Health Research Institute attended the event.
Congressional Advocate
By funding science through ordinary grant mechanisms linked together in extraordinary ways, the NIH Common Fund can support discovery that will ultimately change lives. NIH and the public would be well-served by continuing support of clinical problem-based, multidisciplinary team science approaches to catalyze fundamental biomedical breakthroughs and create new intellectual environments in which changes in clinical practice and standard of care can be implemented.
Senator Dick Durbin (D-IL) Meets with Dr. Teresa Woodruff of Northwestern University to Discuss Biomedical Research

[November 5, 2013, WASHINGTON, DC] – U.S. Senator Dick Durbin (D-IL) met today with Dr. Teresa Woodruff, Director of Northwestern University's Women's Health Research Institute, to discuss the importance of biomedical research. Dr. Woodruff is widely recognized as one of nation's leading medical researchers, and was recently named to TIME Magazine's 2013 list of the World's Most Influential People.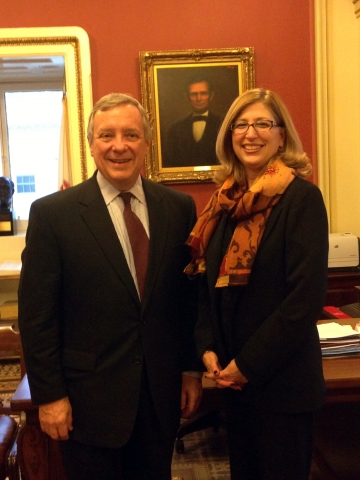 "I was pleased to meet today with Dr. Teresa Woodruff, who is a leader in her field not just in the United States, but around the world," Durbin said. "The important work that she and her colleagues at Northwestern are doing improves lives and help supports our nation's leadership role in the scientific research community." 
Dr. Woodruff Comments on the Impact of Sequester
The federal government is the chief source of financing for basic medical research, so fewer dollars leads to fewer jobs for scientists and technicians, fewer projects being completed and fewer treatments for people suffering from disease, said Teresa Woodruff, who runs a laboratory studying fertility treatments for women who undergo chemotherapy to treat cancer at Northwestern University in Chicago.
"Some of our science is going to be a little slower to get done," Woodruff said. "If we're simply filling in gaps, maybe coloring within the lines, then maybe we're not making sure that the next generation of medical breakthroughs are happening at the pace that I think we want them to happen."
Congressional Briefing
The National Institutes of Health marked the 20th Anniversary of the establishment of the Office of Research on Women's Health with the release of a newly revised research agenda on women's health, A Vision for 2020 for Women's Health Research: Moving into the future with New Dimensions and Strategies (A Vision for 2020). Dr. Woodruff briefed Congress on the importance of women's health and advocated for the new plan. To view the video, click here.

New York Times Editorial
In response to a recent New York Times article "Budget Battles Keep Agencies Guessing" (Business Day, September 4, 2013), Dr. Teresa Woodruff wrote the following response:
Sequestration is about more than red tape and bureaucracy. Huge budget cuts threaten the lives of millions of patients counting on medical innovation.
By slashing investments in medical research, the government hinders efforts to develop treatments for diabetes, cancer, infertility, osteoporosis, hypertension and thyroid conditions. Because of cuts in financing, my lab will not be able to examine important questions about how environmental pollutants have an impact on reproductive health. That is a disservice to the public living in contaminated communities and a career buster to students interested in reproductive biology.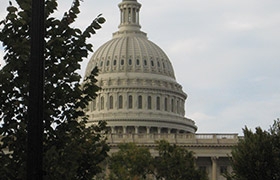 When laboratories lose financing, they lose people, ideas, innovations and patient treatments. Our government leaders must prioritize biomedical research. We can't afford to lose the health advances made through research financed by the National Institutes of Health and the people power behind those discoveries!