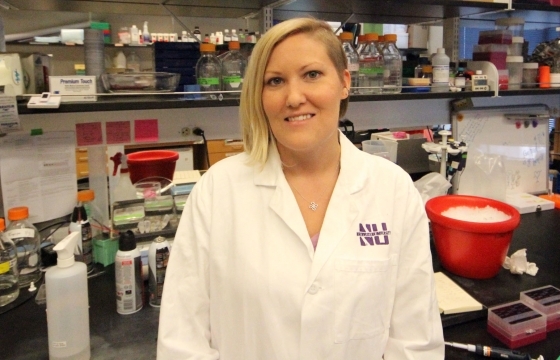 PhD Candidate, Life Sciences
Kelly McKinnon is a PhD candidate in the Driskill Graduate Program, who is funded by a NIH Carcinogenesis T32 training grant, and will soon graduate with a degree in Life Sciences. Kelly came to the Woodruff lab in 2014 and joined a multi-disciplinary team of researchers working together to develop a female reproductive tract that functions outside of the body. This microfluidic system, named EVATAR, has an ovary, fallopian tube, uterus, cervix, and liver, and a 28-day hormone cycle, and will be useful for drug and toxicology studies, as well as disease models. In addition to this, Kelly has developed a 3D tissue-engineered human cervix model that responds to cycling hormones produced by the ovary. She hopes to use these systems to understand how hormonal instructions from the ovary regulate the cervix during homeostasis, as well as in infection and disease, and to identify new hormone-regulated pathways. These studies will provide insight into how these mechanisms are altered in response to differing levels of hormones, such as during pregnancy, menopause, and hormonal contraceptive use, and will have the potential to significantly impact women's health.
Kelly's passion for improving women's health extends beyond the lab - She has won awards for her research, as well as her community outreach, education and mentorship. Kelly believes in order to improve women's health and women's health research, we have to redefine what it means to be an independent researcher, and a woman in science, and she aims to lead the way for her generation.